Regular price
Rs. 1,048.00
Sale price
Rs. 949.00
Unit price
per
Sale
Sold out
What's Inside The

• 2 Colouring Rolls
• 12 Crayons + 12 Crayons
• 6 Double Sided Wall Stickers + 6 Double Sided Wall Stickers
• App Activation Code for both rolls ( You can use in 3 Mobiles)
How to Use/Reuse?

•Use any sketch pen, pens with water-soluble inks or washable crayons

•To erase, wipe it with a wet cloth

•To clean wax crayons use regular eraser

•Do not use ballpoint pens or markers
How To Use Mobile App?

•Download Inkmeo App from the App Store/Play Store

•Click Inkmeo AR

•Scan QR code/ Enter Serial Number given at the bottom right corner of the roll

•For books you can find the activation code on the 2nd page.

•Click Validate

•Click the product and enjoy the AR experience
Share
Rhymes

Nursery Rhymes build the basic foundation in a child about good behaviour, good manners and the daily routine they should follow. Teaching your child all these visually without any distractions is now easy with the Inkmeo Reusable Nursery Rhymes Colouring Roll. So sing along as you colour your all-time favourite nursery rhymes and see the characters come to life and dance with you. Be a part of your favourite rhyme and make your tunes more colourful.
Five In One 
Discover the All in One tool to engage your kids in various activities and develop their mental ability to learn new things. Inkmeo's Five-in-One Wall Colouring Roll is a collection of Vegetables, Fruits, Animals, Numbers and Alphabets. Here is a great opportunity for your kids to develop their knowledge in an interesting way. The kit is enhanced with Augmented Reality App that has made teaching easier for parents and teachers. Inkmeo's Five-in-one colouring roll is designed especially for better learning.
View full details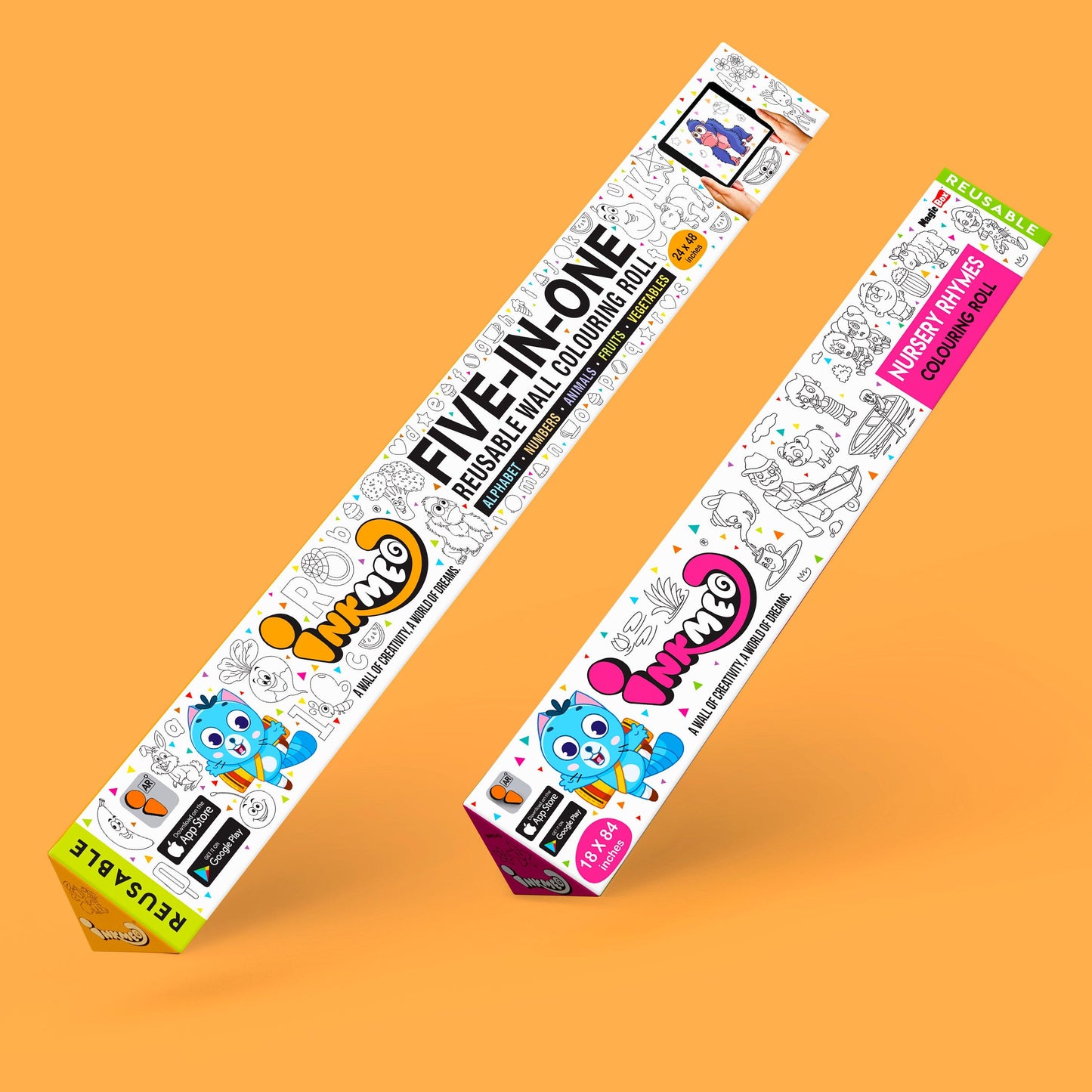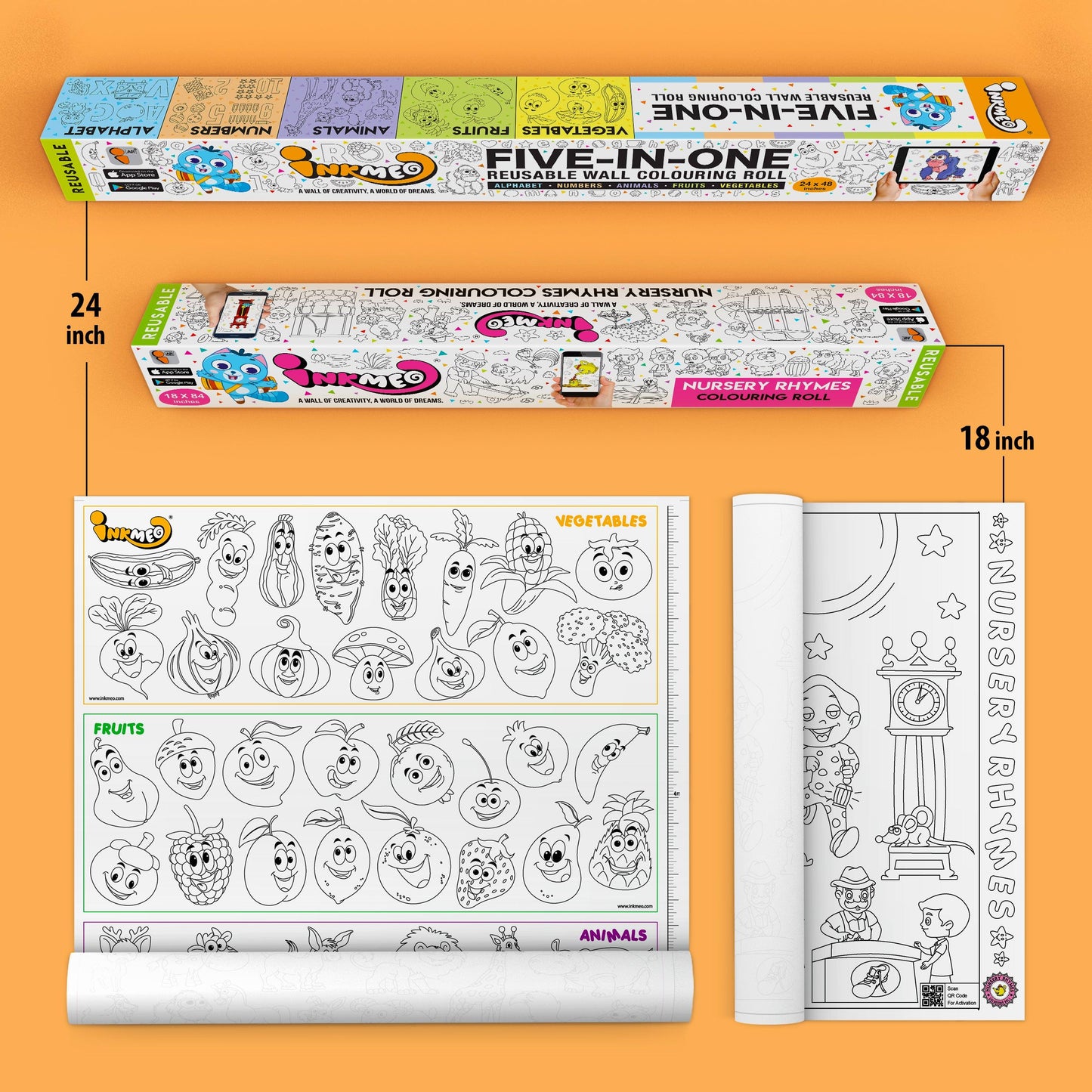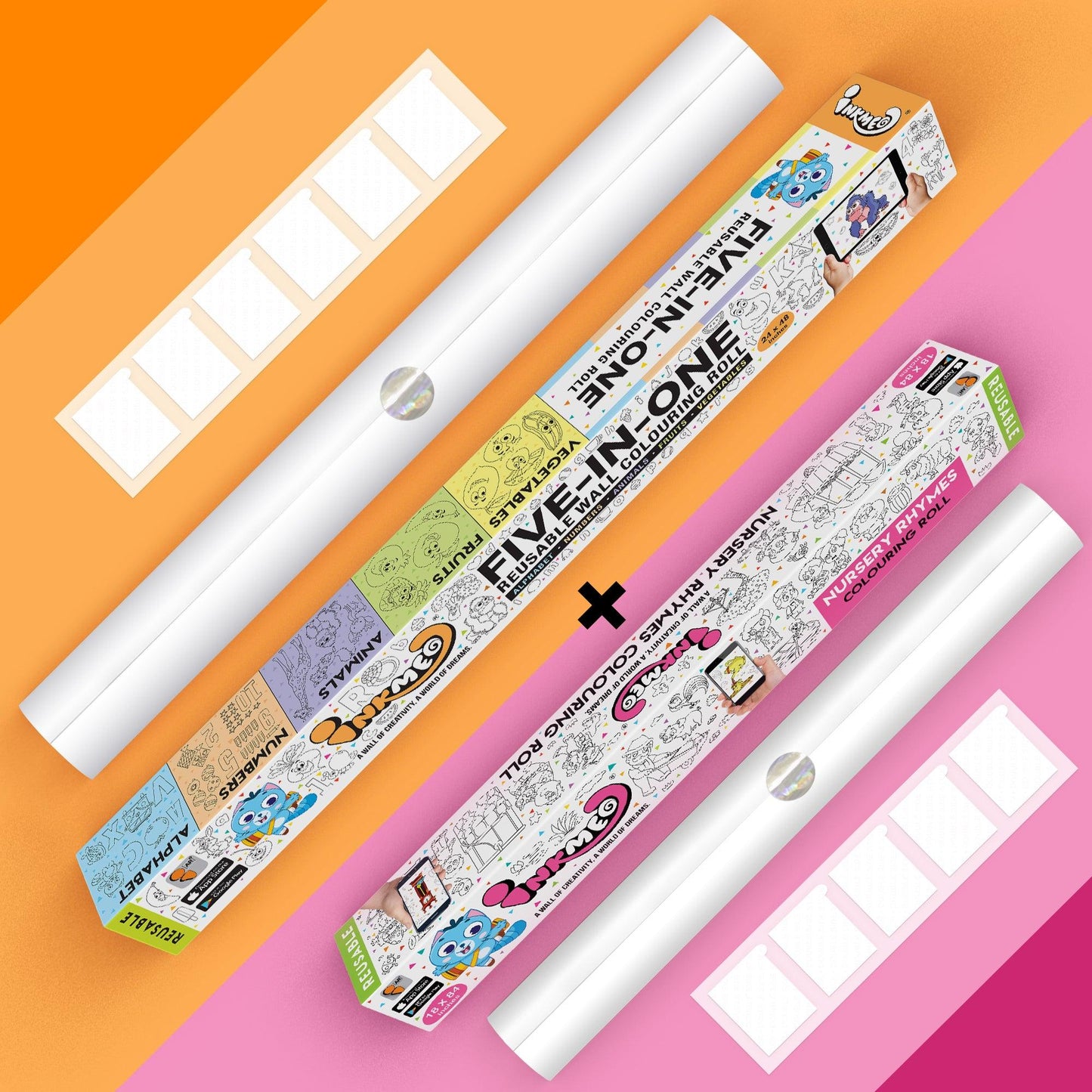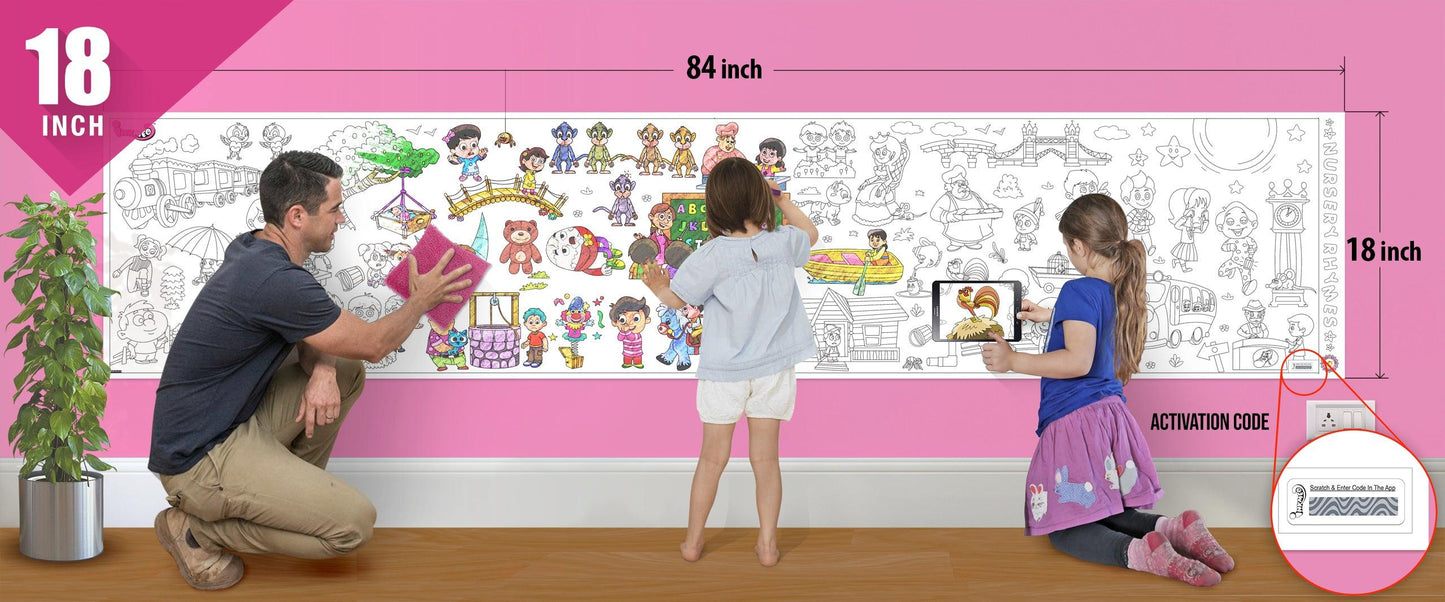 A Great Way to Keep Busy Get our Child Excited About Learning with InkMeo's Coloring Roll Value Pack
This coloring roll combo pack is the perfect way to keep our child busy while also helping them learn about different things like fruits vegetables animals numbers and alphabets
InkMeo's Hindi Rhymes and Five-in-One Coloring Roll Pack is a Must-Have
As a parent it's always great to find innovative learning tools that can engage your child while teaching them new things. My kids love the Hindi rhymes roll and have learned so much from the five-in-one roll
Kids Love It! Keep Them Entertained and Educated for Hours with Inkmeo's Value Pack
My kids absolutely love this value pack of coloring rolls from inkMeos! It has kept them entertained while also teaching them important concepts that will benefit them in the future.
Innovative Learning at Its Best with Inkmeo's Value Pack
My son loves everything about this value pack from inkMeo! It is innovative learning at its best combining playtime with education in such an engaging way
Amazing Quality at an Affordable Price
I was amazed by how much quality I got from such an affordable price point! The Hindi rhymes color roll has been amazing and my kids love using the five-in-one roll to explore new concepts.